Portrait
7 minutes of reading
Laszlo Arnould, extended reality for all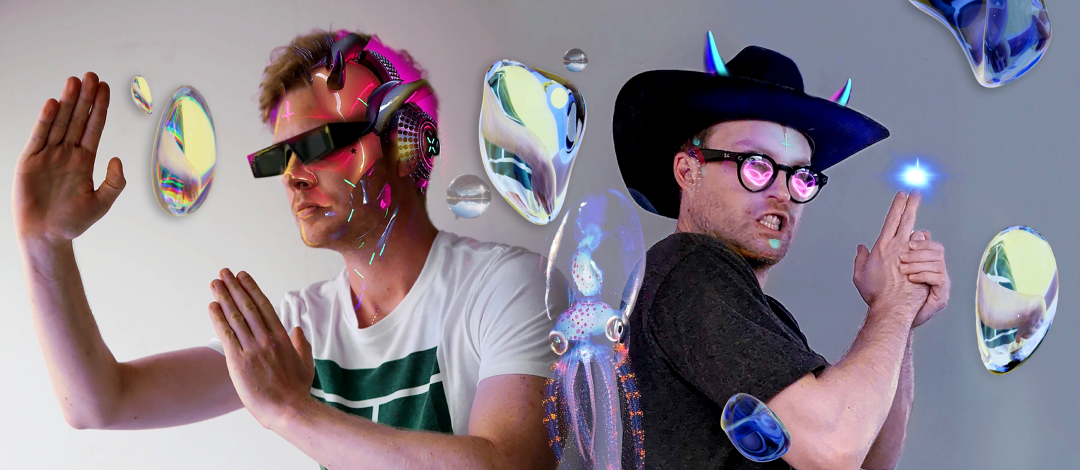 Article author :
A thoroughgoing autodidact with a creative and unruly spirit, the entrepreneur Laszlo Arnould is the spearhead behind PopulAR. Launched in 2019 and already a multiple award winner, this ecosystem operating independently of the major platforms focuses its energies on the meaningful creation of content in augmented reality (AR), as a means of popularising this technology.
Having spent his childhood between the south of France, Scotland and then Brussels, Laszlo Arnould always felt hemmed in by the pigeonholes of the standard education system. At university, he took up studies in a double Bachelor's in economics. He also endeavoured to become a professional tennis player, before following an intuition at the age of 25: what he wanted above all was to take a creative path. 'I initially wanted to take an internship at a fashion designer, because I liked drawing and design, but I didn't stay for very long,' recounts Laszlo. 'I was bothered by this industry's toxic mindset. Then I discussed an idea for an app with a friend, but at that time we didn't know how to code. We therefore enrolled at the Wagon.' The acclaimed Made-in-France school which today trains coders from around the world. And that was the real eye-opener. Coder, growth hacker, a tutor of code, up until finally becoming a start-up creator and coach… He wore a stack of different hats before falling into the world of extended reality technologies by following another of his intuitions: in order to function in a not-too-distant future, society will have to find ways of harnessing these technologies.
Ever since they first emerged, the XR technologies milieu has had few problems regarding inclusivity.
It was a few months ago that the kingkong editorial team first crossed paths with Laszlo Arnould, at the XR4Heritage festival (which we spoke to you about here and here). On the programme: debates and lectures focused on imagining how to reaffirm the value of our historical heritage by making use of XR (or Extended Reality) technologies. An expression which simultaneously includes augmented reality (AR), mixed reality (MR) and virtual reality (VR). Invited to take part in a panel to discuss inclusivity in these new technological universes, Laszlo gives an overview of the current issues during our meeting in his Brussels offices: 'Ever since they first emerged, the XR technologies milieu has had few problems regarding inclusivity. In the domain of AR creation, for example, in terms of numbers there are a great deal of women creatives, even more than men. Many non-binary people as well.'

We wanted to dig a little deeper into this subject and, even if the statistics are still somewhat patchy, we have the feeling that AR may well be more egalitarian than real life. According to AIMagazine, 70% of the sector's creatives are women. And in the opinion of MarketSplash, on Spark AR Studio, the free software offered by Meta to create augmented reality filters intended for Instagram and Facebook, over half (55%) of the monthly users are women.
AR is not (merely) a gadget
@johwska, @viv_galinari, @inidewin_, @nadinekolodziey, @lauragouillon… The thirty-year-old continues by citing a series of women AR creatives who inspire him daily. They might not mean much to rookies in this field, but on their networks they are amassing tens of, even hundreds of, thousands of followers. For Meta, Snapchat, and also the major cosmetics brands, they create colour-gradient aesthetics filters or ultra-realistic artsy 3D universes. But one question is burning on our lips: isn't AR a bit of a gimmick, when all is said and done? Laszlo firmly rejects this. 'Everyone has already played with a filter to have a good giggle on Instagram, but AR is by no means simply about that.'
In fact, even if it is currently a long way from being adopted on a massive scale, AR could prove very useful in the world of industry, but also in the fight against social injustices and climate change. However, the general public is certainly largely unaware of its potential. In the fields of education, medicine, engineering and even astronomy, the XRs are allowing students to explore virtual environments to carry out practical simulations. In health and well-being, AR and VR applications are already being used in therapy and pain management, particularly in the treatment of post-traumatic stress disorder and phobias. 'AR could also be developed on a global scale in retail by enabling customers to see products in 3D, to try them out virtually before purchase. In the stores and online, imagine what that would represent in terms of fewer tons of samples or customer returns.'
Without denying the possible abuses these new technologies may be used for, for Laszlo it is indisputable. In his opinion, to get past them being seen in purely gimmick terms, it will require focusing a little less on their technological aspect, and emphasising a little more the creation of quality content. But also popularising more explicitly the societal issues these techs could get to grips with. 'Or, as I like to say, "PopulARise" augmented reality," clarifies the founder of PopulAR.
Whether you are working with Snapchat, Ray-Ban, the European Commission or non-profit associations, there is always a means of plugging the creation of XR content into the issues society is concerned with.
Laszlo Arnould does not have a crystal ball, but he is absolutely convinced: over time, XR will become a fundamental tool in the service of the society of tomorrow. This is what drives PopulAR to offer not only XR content production services, but also research, consultancy and even education. 'Our guiding thread is to contribute to innovative projects capable of effecting change. Whether you are working with Snapchat, Ray-Ban, the European Commission or non-profit associations, there is always a means of plugging the creation of XR content into the issues society is concerned with.'

Totally subjectively, for us, several of the projects found in PopulAR's well-stocked portfolio stand out in particular. Such as the filters created together with women artists in AR for The Selfielove Initiative. An awareness-raising campaign carried out in 2021 by the Monki clothing brand and the Body Dysmorphic Disorder Foundation (BDDF). This mental health condition, characterised by the obsession that your body, entirely or in part, is riddled with defects, affects around 2% of the adult population, according to the BDDF. One person in 50. Girls aged 17 to 19 are the most affected (5.6%). These filters, employed as cyberactivism tools, and guaranteed that they have not been airbrushed, have been used across the world to protest against the use of images with airbrushed models with no mention of the fact that they have been modified. And thus giving rise to 'filter dysmorphia' in particular. The campaign has even led an English Member of Parliament to present a draft bill at the Houses of Parliament. The Digitally Altered Body Images Bill aims to oblige all advertisers, broadcasters and publishers to display a logo when an image of a body has been digitally modified.
In a different register, AiR. A free-of-charge tool developed with its own capital which allows you to visualise in real time the quality of the air wherever you might be located. 'We are not always aware of it, but air pollution kills more than tobacco addiction and HIV,' Laszlo reminds us. 'AiR demonstrates the full power of AR at this level, in other words, transforming the invisible into the tangible.' In fact, the web application disturbs our perspective and we quickly get caught up in it. By clicking on the gas molecules around us, we can learn more about their concentration levels and their harmful impact on health. 'It's alarming, but it's thanks to these experiential tools that we will trigger transversal changes.'
When his diary allows it, Laszlo Arnould takes the time to amuse himself with the XRs, by for example creating a good number of filters. 'Producing things for fun remains useful to develop your skills in XR.' If you still haven't come across it, it is for that matter PopulAR which is behind the Neanderthal Lens filter, which twists your face into the famous prehistoric figure. Having gone viral, it has generated more than 9 billion impressions on TikTok, 4 on Instagram and 500 million on Snapchat. Laszlo's mantra when he advises a creative who wants to get started on filters? 'You have to try to make people laugh, make them attractive, or allow the users to express themselves. If you stick to one of these three pathways, or even manage to combine the three, your filter will certainly be a big hit.'
We could linger over heaps of other projects bearing the PopulAR logo, which prove that AR has its role to play in terms of education or raising awareness of human rights or species protection. We aren't even going to tell you about one of the company's most recent productions, which will combine AR, storytelling and journalism, and which will soon join the roster of the Arte media digital creations (stay connected). However, running a content production studio would make little sense without highlighting the creative spirits in the background. 'By working with the major actors in AR, based more or less all over the world, from Silicon Valley to Australia, we have acquired an in-depth knowledge of this industry, but our wish was also to establish sound values within this fast-growing space,' explains Laszlo. Because the bubble of AR creatives is no bed of roses.'
Certain creatives criticise the validation process operated by giants such as Spark AR, and quite rightly.
Within the community, numerous debates are taking place over monetisation, creative control, or the lack of interoperability between the major platforms. Reflections of the growing influence of augmented reality. 'Certain creatives criticise the validation process operated by giants such as Spark AR, and quite rightly,' emphasises Laszlo Arnould. 'These giants are fostering a toxic ecosystem by encouraging their creatives to stand out in their work free-of-charge. They do so in the hope of obtaining spotlights in the press and other rewards. It's the carrot and the stick. And that creates an unhealthy competitive spirit. Even if the AR platforms have established means of remuneration, red flags are all the same being raised as to the distribution of income and the genuine impact in terms of visibility for independent creatives.'
A popular and planetary community
On the basis of this unappealing assessment, he wanted to bring into the world an independent hub, a community thought through by and for AR artists: PopulAR Planets. A forum, an asset store and tutorials made available to everyone and principally free-of-charge. The platform has already brought together 40,000 AR creatives. To give you an idea of the ratio, across the world there are approximately 150,000 active in the digital domain… 'The goal of PopulAR Planets is not to pit ourselves against the large platforms, but to encourage creatives to be independent. We regularly work with the platforms, occasionally on large-scale projects, but I will continue to call out their practices when they encroach on the work of AR artists. A platform of creation, no matter how developed it might be, remains a tool, whereas the creators of AR content are the architects who will enable the general public to become aware of the potential of this technology.'
Call for projects
A story, projects or an idea to share?

Suggest your content on kingkong.
send your ideas