Article
5 minutes of reading
Les slasheuses #2: when Instagram becomes a comic book

Article author :
We introduced you to them several months ago, 'les.slasheuses'; this Instagram account compiling the illustrated adventures of two somewhat disillusioned freelancers is today available in paper format. This gleaming yellow, 88 page self-published album, proudly taking centre stage in the window displays of several Brussels bookstores, brings together a year of Instagrammed wild imaginings.
You might remember that at the end of 2021 they launched their Instagram account, repurposing the notion of 'slasher' to reveal what lies behind it: their daily lives as aimless freelancers. Each week for a full year, Camille Toussaint and Caroline Renaudière posted their quirky anecdotes, in a style mixing pencilled illustrations and acidic-absurdist texts, bringing a real-life touch to a term which has been slightly worn out by the devotees of start-up nation and inspirational hashtags.
Whilst the idea of developing a printed companion to their digital project had been on the duo's minds for some time, the entirely self-published album finally came out last June. The opportunity for these two autodidacts to discover the specifics of transitioning from the screen to paper.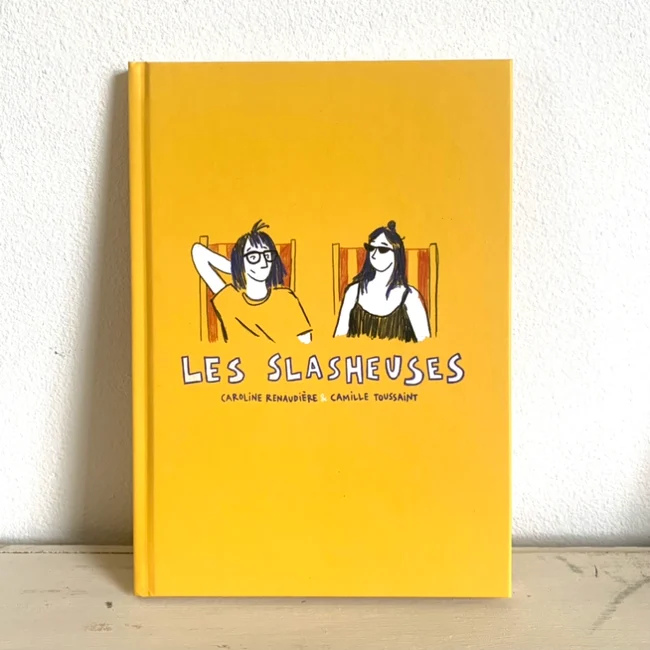 Create your own comic book in 1234 steps
Rythm and structure
As Caroline, the project's scriptwriter, emphasises, whereas an account uploaded to the networks is constructed as and when the publications come out, each one posted independently of the others, a book is read in one sitting. A first task was therefore to create a narrative arc, then bring some coherence and rhythm to the tale: 'we printed and then cut up all the publications, separated the images from the texts, and spent several days reorganising all the elements between them, as a means of getting a basis, an outline,' explains Camille. 'It was an extremely interesting exercise, a genuine first stage in the publishing process.' The duo therefore ended up with a structure which suited them, and an initial trial print followed some time afterwards. A much-awaited first version, but which unfortunately proved not really, even really not, convincing.
'We had settled for working on the order and the structure, which made sense, but not on the rest. For example, we had simply cut-and-pasted the texts alongside the drawings, without any real graphic work or page layout. And let's be honest, it was awful and unclear.' This first attempt thus ended up on the scrapheap, but the duo nevertheless retained its structure (as well as a slightly bitter taste, but let's not dwell on that).
Written texts vs clicked texts
Whilst the drawings underwent no transformations expect for some technical resolution modifications (which, incidentally, led to scores of hair-tearing sessions for Camille, who had not a priori intended the illustrations to be printed), the texts were subjected to a rewriting work. Because, as Caroline notes, you don't read a book, be it a comic book and humorous, in the same way as you read Instagram: 'On Insta, the writing and therefore the reading is a lot freer, more direct. When I reread certain of my texts once they were printed, I sometimes no longer understood myself. I therefore rewrote, shortened, changed the punctuation, the structures, to match it all up with the physical format.' If, as we are, you were particularly a fan of the online texts, be reassured, the printed version is well up to standard.
Drawn fonts
The drawings of the slashers stand out for their pretty simple, rapidly sketched style. If this slightly rough draft aspect was initially justified by practices specific to online publication (as Camille explained last January), this 'handmade' aspect in reality progressively established itself as a constituent element of the account, providing it with its identity.
It was in the end, precisely, in choosing to rewrite all the texts by hand and livening them up with a few winks and other drawn layout features, that the duo succeeded in giving the album its graphic coherence. This pencilled typography, deliberately uneven and imperfect, manages to pretty fluidly bind the texts and the drawings, a real plus-value provided by the printed object in comparison with the digital project.
The result is a coherent album, well-constructed, and in which we find the human, witty and unpretentious aspects which particularly pleased us online.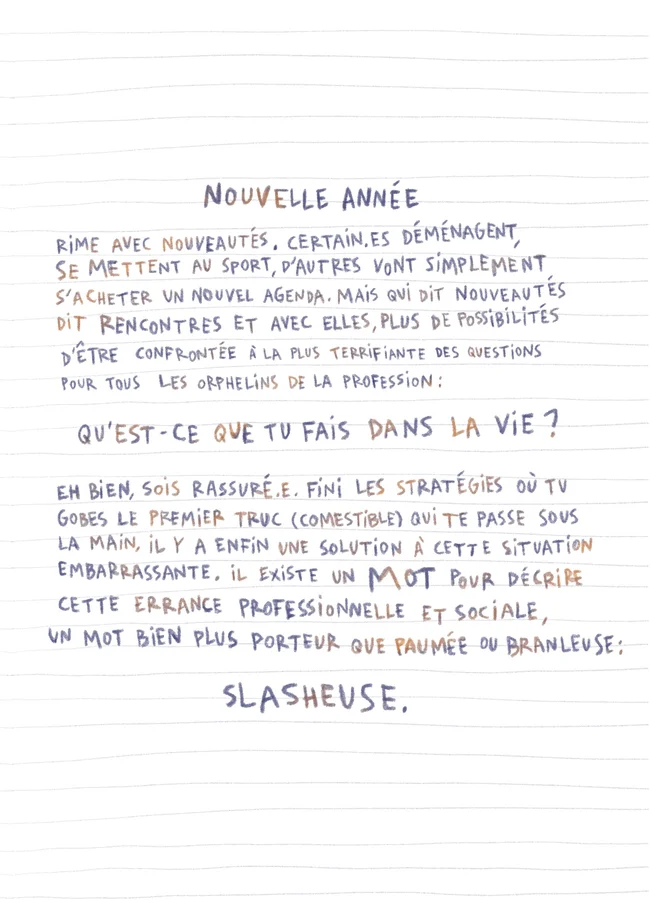 Deposited in bookstores
Printed in successive batches of 50 and then 100 – and re-100 – copies, the book was at first sold at events taking place here and there dedicated to illustration or micro-publishing, where it met with its first success. It was then (shyly) presented to several independent bookstores, which were for the most part enthusiastic about the project and added to their shelves a few books taken on deposit. 'It was an amazing experience to see our book in the bookstores we love, in which we buy our own comic books,' emphasises Camille. 'Bookstores don't take many risks, given that they simply place them on deposit and that sometimes they only take two or three, but for us it was all the same a little seal of approval.'
IInstagram, a pixelized springboard
Making a name for yourself on the networks and then rolling out your activity on the classical channels has become common practice in recent years, in all of the creative fields. 'Nowadays, it no longer appears bizarre for bookstore customers that certain books come from Instagram,' notes Camille. In terms of comic books, she in particular cites authors such as Salomé Lahoche and Caroline Nasica, whose albums 'La vie est une corvée' and 'Caro et les zinzins' are printed versions of Instagram projects which have attracted lots of attention. The online prominence of these two female authors, with large followings on the networks, was particularly decisive in the publishing process of their respective books, achieved via participatory funding campaigns.
Whilst the slashers are far from reaching the same audience as these illustration influencers, the duo's comic book would also never have seen the light of day without their online presence and the community they have created. 'When the time comes to launch the book object, it is enormously helpful,' emphasises Caroline. 'For starters, that allows you to have a base of people to receive and pass on information. But there is also a legitimacy aspect: the audience has been able to follow our work beforehand and knows that we haven't come from nowhere, that there is quite a professional project behind it all.'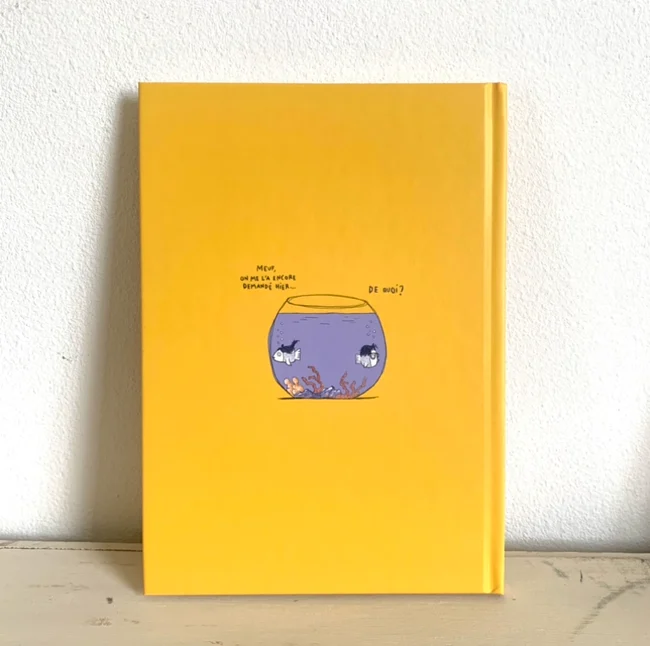 The thereby completed project also serves as a calling card for the duo in terms of more ambitious projects. 'We haven't abandoned the idea of creating a comic book with a longer and more developed scenario, even though we are fully aware that it is a very different task to posting something amusing each week.' The next stage is situated midway between the two approaches: continuing the adventures of the slashers on Instagram, but in a more regular manner, each publication presenting itself as an episode in a longer story.
So watch this space!
***
'Les slasheuses,' by Caroline Renaudière and Camille Toussaint, is available in Brussels at Peinture Fraîche, Les Yeux Gourmands, Météores and Tulitu, and on the internet over here. A joyous album, which has little to envy its bookshelf colleagues.
Call for projects
A story, projects or an idea to share?

Suggest your content on kingkong.
send your ideas