Article
4 minutes of reading
Pride Unprejudiced, the exhibition which celebrates the diversity of sexualities and gender identities
Article author :
On the occasion of Pride Month, the EDJI art gallery is presenting its collective exhibition PRIDE UNPREJUDICED. The exhibition brings together eleven emerging artists who share, through their works, a message of hope regarding the issue of sexuality and gender identities.
Founded in 2022 by the couple Edward van Houtte and Ranji Safarian, EDJI is a contemporary art gallery which aims to celebrate the diversity of emerging artists on the international art scene. EDJI GALLERY was initially conceived as an itinerant project, travelling between several European capitals. After several months of nomadic exhibitions, particularly in Paris and London, the founders decided to establish a base in Brussels, which they consider to be the European epicentre of contemporary art. The gallery specialises in promoting ultra-contemporary artists with their roots in communities whose identities have long been forgotten in the history of art, such as women, racialised persons or queer people.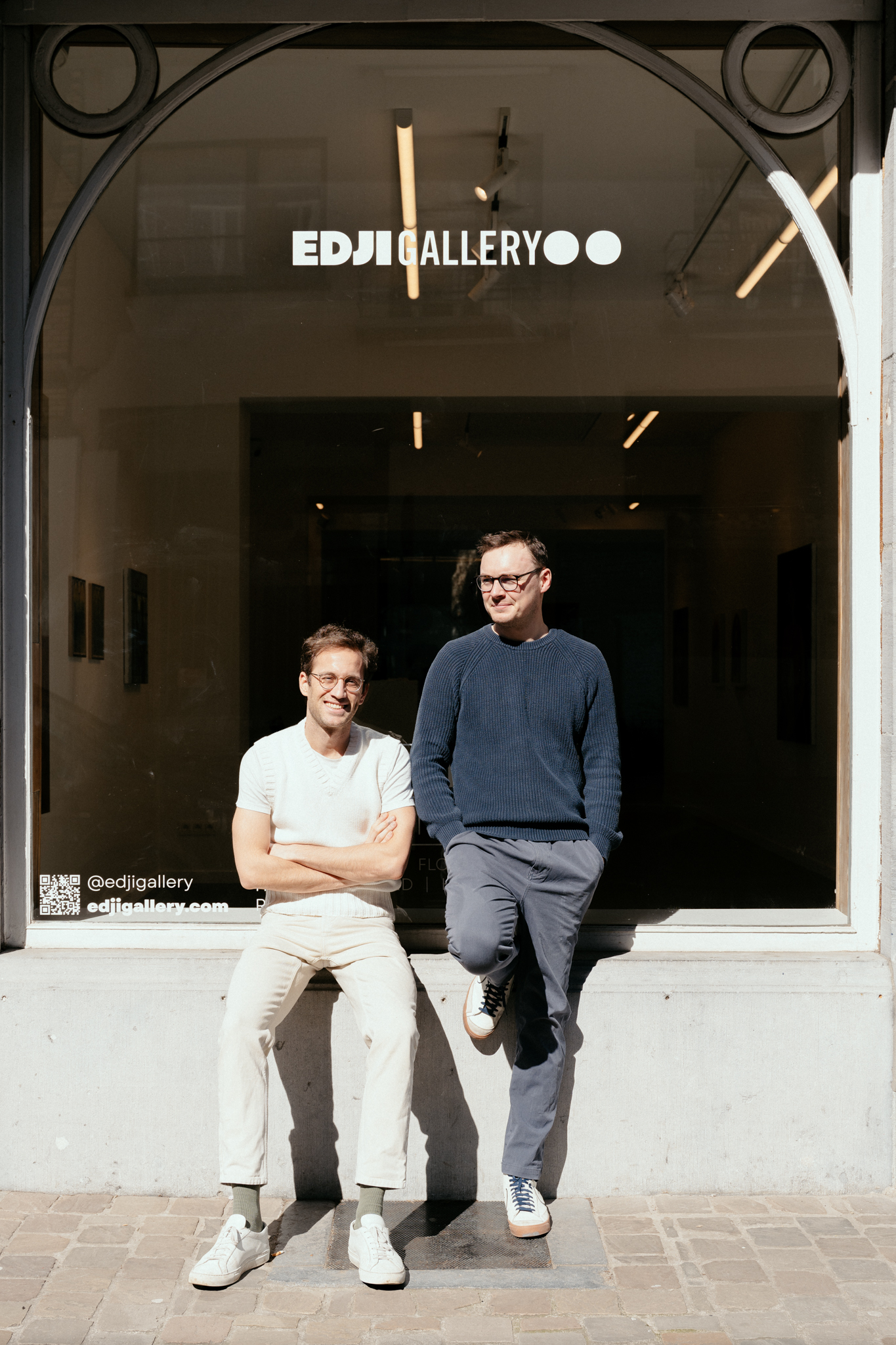 Taking the ultra-contemporary art option
The expression 'ultra-contemporary art' is being used more and more in the media. It designates the powerful traction women and non-Western artists under the age of 40 are gaining on the international art market. This grouping has always existed in history, but it is the first time that it has acquired such scale. More than a simple phenomenon, ultra-contemporary art incarnates paradigm shifts said to be currently transforming the global art market. 'We believe that it is something which Brussels lacks,' regrets Edward. 'There are numerous ultra-contemporary art galleries in New York and London, but not in our capital. Here, it is more a question of major galleries which are well established and which lack diversity.'
At the beginning, Edward and Ranji's goal was not defined in terms of specialising in ultra-contemporary art. They wished to work with artists who were part of communities marginalised in the history of art. It was only later that they came to understand that close to ¾ of them belonged to them. Without being aware of it, Edward and Ranji were already working with them.
Far from being exclusive, the couple also works with older artists who do not fit into the ultra-contemporary segment, such as Sergei Sovkov, an Austrian artist who is exhibiting in PRIDE UNPREJUDICED. 'We considered his work excellent,' affirms Ranji. 'We wanted to give him his space because he has been under-represented in his generation. When he was younger, not enough space was given to queer artists, and his work clearly gravitates towards these themes.'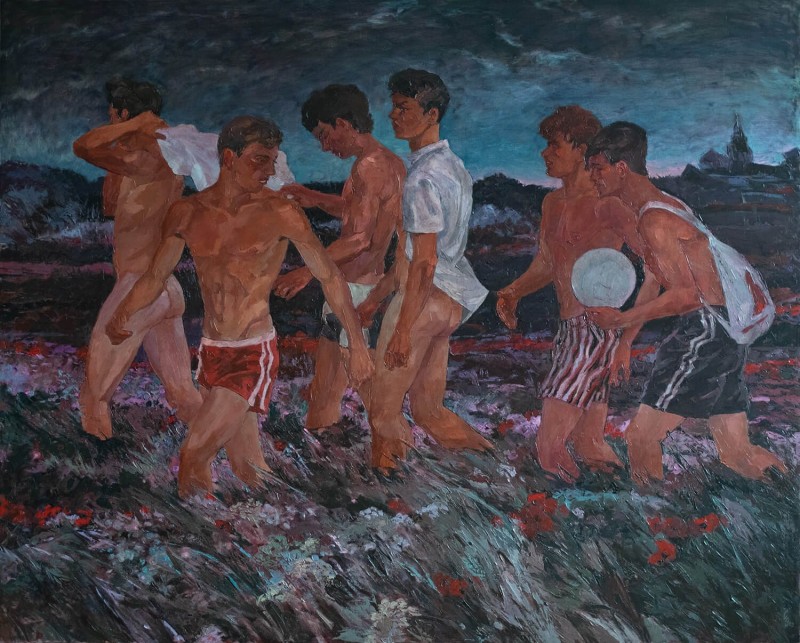 Over the course of history, art has been a channel for evolving people's mindsets and shattering taboos. Still today, contemporary artists show a real need to rewrite history. They use their art to represent the communities which have for a long time been marginalised on the art scene. 'The history of art such as it is taught is fundamentally that of the white heterosexual male,' regrets Ranji. 'However, we know that there are numerous female, black, queer artists…' By means of their gallery, Edward and Ranji hope to contribute to developing the narrative of the history of art.
A celebration of the LGBT experience
For their new exhibition, PRIDE UNPREJUDICED, the couple invited the participating artists to paint whilst liberating themselves from the gaze of others and the prejudices people may have, not only as regards sexuality, but also about their works. 'Society today is more open,' concedes Edward, 'but there is still a lot of discrimination against the LGBT community. On the occasion of Pride Month, we wanted to celebrate this community we are a part of and give it a creative space without prejudices.'
The exhibition's principal work is a painting measuring two by three metres in which the artist, Alexandre Kasproviez, wanted to represent, not Adam and Eve, but Adam and Adam. The work is slightly blurred, to show that the community has for a long time been wiped from history, but it shares this message: homosexuality has always existed.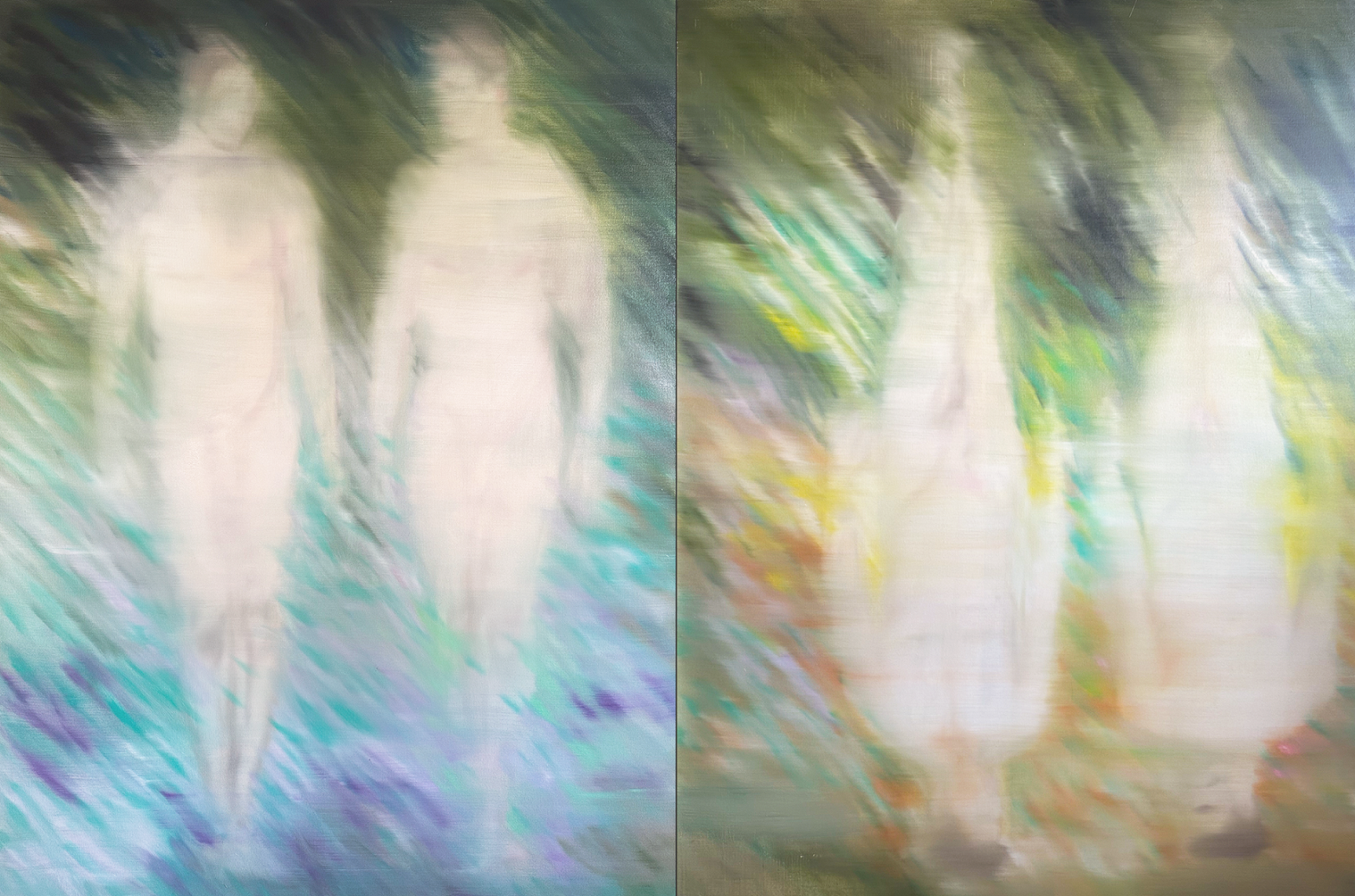 Free to appropriate the theme in any way they wish, certain artists have decided to represent themselves through self-portraits. This is the direction taken by the French artist Iris Marchand, in a painting whose subjects assume androgynous features. One of the canvases prepared for this exhibition shows somebody wearing boxing gloves. They represent the battle queer people are engaged in to be accepted. A very strong message which Ranji appreciates in particular.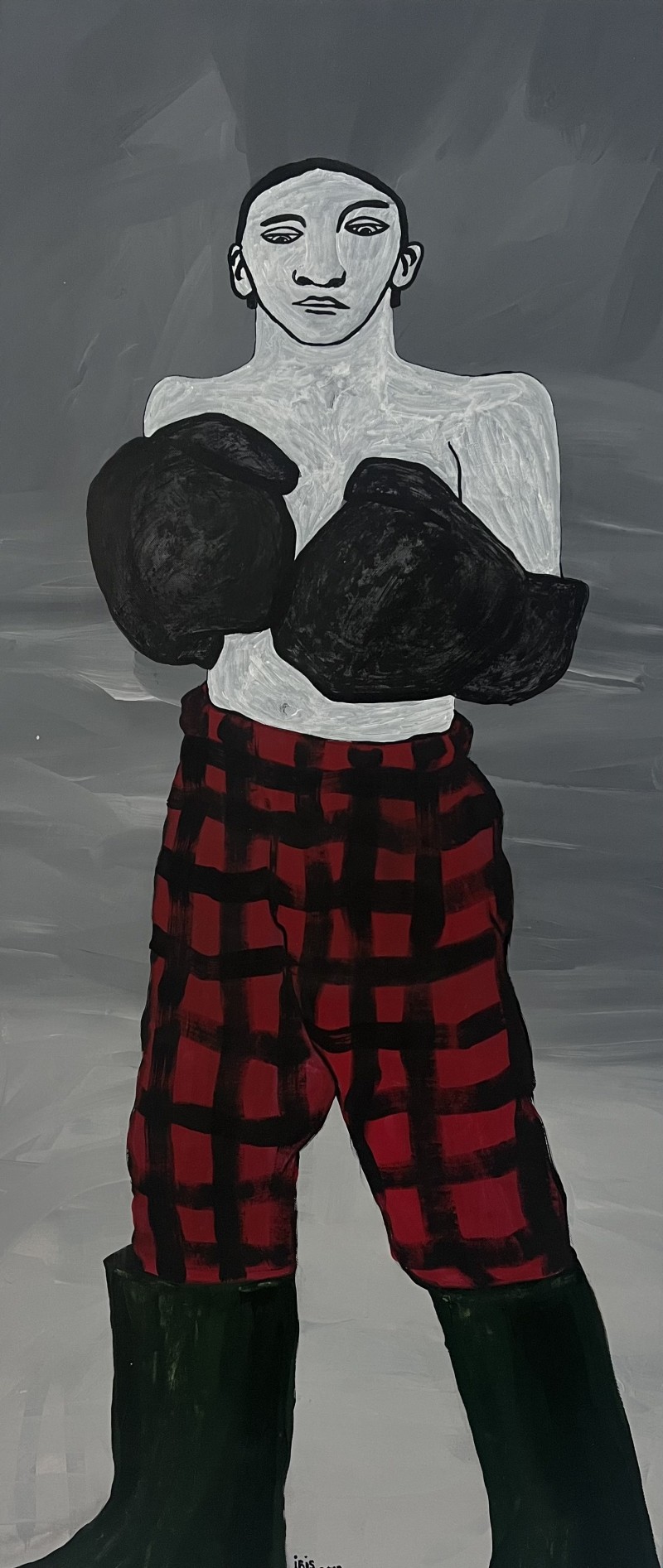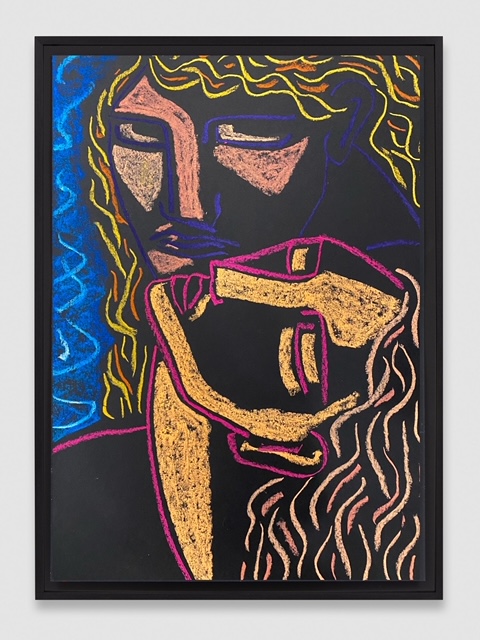 Another artist, Marguerite Piard, has created sculpted wood works which symbolise her experience of coming out. For her this was a difficult and drawn-out process, during which she sculpted herself in order to look for her truth within herself.
PRIDE UNPREJUDICED is a celebration of love and intimacy, but none of the works carries sexual connotations. 'We wanted the exhibition to be open to everybody,' explains Ranji. 'It was above all important for us to distance ourselves from the prejudice that homosexual couples are primarily focused on sex. We therefore asked the artists not to be too demonstrative in their works.' In its place: a certain intimacy and a lot of tenderness. A testimony to love, irrespective of its gender or its sexuality.
A space for art and exchange
More than a simple art exhibition, Ranji and Edward hope that PRIDE UNPREJUDICED is a space in which the LGBTQIA+ community finds itself. 'The most important thing is that they can look at the paintings and recognise themselves, feel that they are seen,' explains Edward with sincerity. 'We are looking to create an exchange between the LGBT community and its allies, and to open up the dialogue on sexuality and gender identities.'
No matter what month of the year it is, EDJI GALLERY wishes to be a site in which people feel safe and where the conversation is productive and respectful. 'What we hope is that EDJI is an open, free space, where people feel accepted,' concludes Ranji.
The PRIDE UNPREJUDICED exhibition can be discovered until July 20 at the EDJI GALLERY (Rue du Page 15, 1050 Ixelles). It is exhibiting the works of Alexandre Kasproviez, Annabel Faustin, David Weishaar, Iris Marchand, Killion Huang, Leonardo Guglielmi, Marguerite Piard, Rodrigo de Brujas and Sergey Sovkov.
Call for projects
A story, projects or an idea to share?

Suggest your content on kingkong.
send your ideas