Article
4 minutes of reading
Eliminalia, the company which cleans the reputations of banks and drug barons

Article author :
Acting on the principle of the right to be forgotten, a Spanish reputation management company is using dubious methods to erase negative information about its clients from the internet. On its portfolio are banks and criminals who have been convicted in the courts and are looking for ways to whitewash their names.
We have all at certain points come across photos or content on the internet concerning us we would rather have disappear. And probably all of us have quickly realised that nothing really vanishes from the net. This compromising photo taken during an alcohol-fuelled evening placed online by a friend when we were seventeen; someone will have downloaded it, reposted it… In short, it could reappear at any time, even if we believed we had successfully wiped it from the face of the earth.
To respond to this recent yet weighty problem, reputation management companies have been created. Their mission is to clean the information about their clients found online. Eliminalia is one of the major actors in this growth industry. The Spanish company has offices across the world, in Europe, in Kiev and Lisbon. Its slogan: 'We erase your past, we help you build your future.'
Good news for our photo! And no more combing the networks looking for compromising information before a job interview. At first glance, Eliminalia seems to be simply lending a helping hand to restrict abuses on the internet. But if even an ordinary person has something to hide, what about those who do not always operate on the right side of the law?
But are there indeed limits to what can be legally erased from the internet, or to the methods used to do so ? Officially, the company 'perform[s] a deep search across the internet for all information – whether it be an article, a blog, social media posts or even a mistaken identity.' It then takes care of eliminating all the negative information in the name of its client.
Fraudulent methods masked by the principle of the right to be forgotten
Nevertheless, recent investigations carried out by the OCCRP and The Guardian have revealed that the company has for several years been using unethical or deceptive methods to pull damaging and unwanted content from the web. These techniques include impersonating third parties and filing fake copyright claims to search engines such as Google, as a means of getting unwanted information taken down. And when removal is not possible, Eliminalia buries negative articles under a mountain of inconsequential information about dogs, cars and football.
A cache of 50,000 of the company's internal files leaked by Forbidden Stories, a French non-profit association, has revealed information about Eliminalia clients from 50 countries. The files include their names, signed contracts and other legal documents. In the majority of cases, they are individuals who simply want an embarrassing or traumatic incident to stop haunting them online (like the infamous photograph from our night out).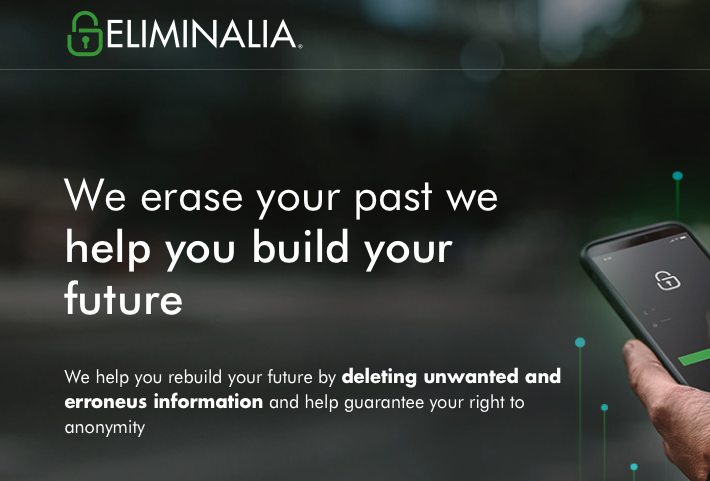 But amongst the company's clients are listed a Swiss bank, accused of money laundering, and a Turkish biotech tycoon accused of hiring a contract killer to murder his rivals. The services provided by Eliminalia, which on average come to several thousand Euros, can cost as much as 100,000 Euros.
The company harnesses European Union laws on 'the right to be forgotten' to meet the needs of its clients. The right to be forgotten can be used legitimately by convicted individuals or companies to request the removal of references to their convictions once it has been reasonably established that they are ready to turn over a new leaf regarding their crime.
Questioned by the Forbidden Stories team, Eliminalia did not respond to requests for comments, its lawyers stating that 'the orientation and content of the vast majority of the questions demonstrate a partial and dishonourable approach'. Several clients did, however, reply to questions concerning how the company operates.
One of them was Hernán Gabriel Westmann. Accused in 2017 by the Argentinian authorities of having laundered money for the Sinaloa drug cartel, the charges were dropped two years later owing to insufficient evidence.
Westmann stated that the charges against him were concocted by the government of Mauricio Macri, the former Argentinian President, in reprisal for his business dealings with the former left-wing President, Cristina Fernández de Kirchner. Having convinced the Argentinian media to remove articles concerning him, he enlisted Eliminalia to take down press reports about him in the foreign media which he judged to be inaccurate. Nowadays, Hernán Gabriel Westmann appears in articles in which he holds forth on the rules of American football, the arrogance of chihuahuas, and on philosophy. All of the sites on which these articles are published appear to be linked to Eliminalia's parent company.
Disinformation as a weapon of choice
Qurium, a Swedish non-profit association, has identified 600 sites hosting articles similar to those featuring Westmann, but which on this occasion concern the individuals and companies found in the leaked list of files involving Eliminalia clients. These articles are published amongst authentic press reports to enhance their credibility. The headlines are carefully crafted with a view to tricking Google or other search engine algorithms so that they are placed at the top of the search results. As a result, the spam articles are high up in the ranking index, relegating the genuine content further down the list, thereby making it more difficult to access.
Another tactic used by Eliminalia employs American copyright law, which stipulates that online service providers are required to react immediately to complaints to avoid any liability as regards the aforementioned right being violated. The company clones press articles on fake news websites such as Noticias-Politica.com, backdating them as it does so. It then files complaints for infringement of copyright.
Eliminalia's goal is to convince Google and other search engines that their cloned article is the original so that they take down the authentic articles. Very simple to implement, this form of disinformation has become increasingly common in recent years. According to the investigation carried out by Qurium, Noticias-Politica.com is just one of the disinformation sites created by Eliminalia. They are designed to resemble trustworthy sites, but are in reality full of content stolen from legitimate media such as Le Parisien or The Guardian.
Since this news was leaked to the general public earlier in the year, Eliminalia seems to have erased its own internet trace. The same disinformation sites which Forbidden Stories and Qurium have linked to the company have been modified. It has also changed identity, becoming iData Protection in the official registers. In any event, the recent revelations about the company's operations, covered by media across the globe, may prove more difficult to erase.
Call for projects
A story, projects or an idea to share?

Suggest your content on kingkong.
send your ideas